WHY YOU SHOULD CHOOSE BUILDSMART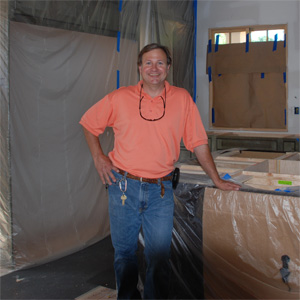 For​ ​over​ ​two​ ​decades,​ ​I​ ​have​ ​worked​ ​as​ ​a​ ​building​ ​expert​ ​and​ ​licensed​ ​contractor​ ​remodeling homes​ ​and​ ​building​ ​new​ ​homes​ ​for​ ​families​ ​in​ ​and​ ​around​ ​Atlanta.
My​ ​mission​ ​in​ ​my​ ​business​ ​is​ ​to​ ​provide​ ​an​ ​exceptional​ ​home​ ​buying​ ​experience​ ​and​ ​create places​ ​homeowners​ ​are​ ​proud​ ​to​ ​call​ ​home.
I​ ​started​ ​by​ ​buying​ ​and​ ​selling​ ​fixer-upper​ ​houses​ ​in​ ​the​ ​early​ ​1990's.​ ​In​ ​the​ ​summer​ ​of​ ​1995,​ ​I was​ ​remodeling​ ​one​ ​of​ ​my​ ​investment​ ​houses.​ ​The​ ​remodel​ ​was​ ​a​ ​total​ ​gut​ ​job.​ ​I​ ​was converting​ ​a​ ​little​ ​1920's​ ​two-bedroom​ ​mill​ ​house​ ​into​ ​a​ ​fully​ ​updated​ ​craftsman​ ​style bungalow.​ ​I​ ​was​ ​at​ ​the​ ​house​ ​each​ ​day​ ​working​ ​alongside​ ​my​ ​tradesmen​ ​in​ ​a​ ​quaint neighborhood​ ​lined​ ​with​ ​100-year-old​ ​oak​ ​trees.
As​ ​work​ ​progressed,​ ​neighbors​ ​stopped​ ​by​ ​and​ ​asked​ ​me​ ​about​ ​the​ ​project.​ ​They​ ​seemed thrilled​ ​with​ ​the​ ​improvement.​ ​My​ ​project​ ​was​ ​adding​ ​value​ ​to​ ​their​ ​neighborhood.​ ​They brought​ ​coffee​ ​in​ ​the​ ​morning​ ​and​ ​a​ ​Coke​ ​in​ ​the​ ​hot​ ​afternoon.​ ​They​ ​asked​ ​questions​ ​about what​ ​I​ ​was​ ​doing​ ​and​ ​shared​ ​home​ ​improvement​ ​ideas​ ​about​ ​their​ ​own​ ​homes.​ ​Eventually​ ​they invited​ ​me​ ​to​ ​come​ ​by​ ​their​ ​houses,​ ​hear​ ​their​ ​ideas,​ ​and​ ​impart​ ​how-to​ ​advice.
Giving​ ​advice​ ​in​ ​that​ ​one​ ​neighborhood​ ​sprouted​ ​into​ ​dozens​ ​of​ ​remodeling​ ​projects​ ​and eventually​ ​grew​ ​into​ ​company​ ​with​ ​hundreds​ ​of​ ​projects.​ ​The​ ​projects​ ​ranged​ ​from​ ​a​ ​simple bath remodel to kitchen remodels, complete whole- house remodeling, additions, façade remodels,​ ​and​ ​building​ ​second​ ​levels.​ ​My​ ​customers​ ​were​ ​all​ ​thrilled​ ​with​ ​the​ ​results.​ ​My​ ​phone was​ ​ringing​ ​with​ ​referrals.​ ​I​ ​had​ ​grown​ ​into​ ​a​ ​turn-key​ ​custom​ ​home​ ​remodeling​ ​business.
I​ ​was​ ​soon​ ​doing​ ​new​ ​construction​ ​from​ ​the​ ​ground​ ​up.​ ​I​ ​found​ ​new​ ​construction​ ​to​ ​be different​ ​than​ ​remodeling.​ ​I​ ​enjoyed​ ​development​ ​and​ ​new​ ​construction​ ​so​ ​I​ ​continued​ ​to​ ​do both​ ​remodeling​ ​and​ ​new​ ​construction.
I​​ enjoyed​​ the ​​relationships ​​with ​m​y ​​customers.​​ It​​ became​​ clear​​t hat​ ​they ​​valued ​​the ​​depth ​​of product​ ​knowledge​ ​and​ ​design​ ​and​ ​construction​ ​skills​ ​I​ ​had​ ​acquired​ ​over​ ​the​ ​years.
Working​ ​closely​ ​together​ ​with​ ​my​ ​customers​ ​taught​ ​me​ ​to​ ​create​ ​spaces​ ​that​ ​were​ ​more live-able.​ ​I​ ​have​ ​learned​ ​a​ ​lot​ ​about​ ​how​ ​people​ ​live​ ​in​ ​their​ ​homes​ ​and​ ​what​ ​they​ ​want.​ ​I became​ ​passionate​ ​about​ ​creating​ ​higher​ ​quality​ ​homes.
As​ ​my​ ​business​ ​grew,​ ​I​ ​implemented​ ​business​ ​operating​ ​systems​ ​to​ ​ensure​ ​that​ ​I​ ​would maintain​ ​a​ ​consistent​ ​level​ ​of​ ​organization,​ ​communication,​ ​quality​ ​and​ ​service.​ ​I​ ​utilized​ ​the assistance​ ​of​ ​a​ ​business​ ​consultant​ ​and​ ​developed​ ​a​ ​proprietary​ ​system​ ​to​ ​address​ ​every​ ​aspect of​ ​my​ ​business​ ​including​ ​customer​ ​service,​ ​communications,​ ​design,​ ​selections,​ ​document management,​ ​construction​ ​management,​ ​and​ ​accounting.​ ​I​ ​created​ ​processes​ ​to​ ​provide business​ ​organization​ ​and​ ​simplify​ ​enormously​ ​complex​ ​construction​ ​projects.​ ​My​ ​process ensures​ ​consistent​ ​quality,​ ​communication,​ ​and​ ​scheduling​ ​as​ ​well​ ​as​ ​a​ ​predictable​ ​budget.
I​ ​started​ ​in​ ​the​ ​real​ ​estate​ ​business​ ​by​ ​buying​ ​and​ ​selling​ ​fixer-uppers.​ ​I​ ​grew​ ​into​ ​handling custom​ ​remodeling​ ​projects​ ​and​ ​new​ ​construction​ ​homes.​ ​I​ ​am​ ​currently​ ​utilizing​ ​my construction​ ​resources,​ ​knowledge​ ​and​ ​experience​ ​in​ ​all​ ​of​ ​my​ ​projects.
I​ ​currently​ ​utilize​ ​cloud​ ​based​ ​computing​ ​services​ ​to​ ​share​ ​detailed​ ​project​ ​information​ ​with​ ​my investors​ ​and​ ​homebuyers​ ​throughout​ ​each​ ​project.​ ​This​ ​sets​ ​expectations​ ​and​ ​ensures​ ​that schedules​ ​and​ ​budgets​ ​are​ ​respected.​ ​I​ ​utilize​ ​my​ ​proprietary​ ​systems​ ​to​ ​carefully​ ​plan​ ​and manage​ ​my​ ​projects.
Ultimately​ ​my​ ​business​ ​is​ ​more​ ​than​ ​sticks​ ​and​ ​bricks.​ ​I​ ​take​ ​pride​ ​in​ ​knowing​ ​that​ ​I​ ​am​ ​creating houses​ ​that​ ​families​ ​call​ ​home.